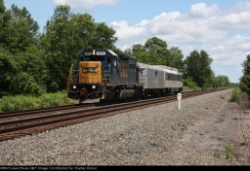 Welcome to the RRPictureArchives.NET contributor site of Charles Ricker.

Hello everyone, welcome to my photo page!

I am an enthusiast of railroading in the North-Easter United States, mostly the historical lines that ended up in Conrail in 1976. I do have some photos of contemporary railroading, mostly CSX and some Norfolk Southern. My passion however, is the "Anthracite Roads" prior to 4/1/76. I enjoy exploring the "ghost-lines" of the former Lehigh Valley, Lackawanna and other lines that are no longer there.

Thanks again for viewing!

Charlie Ricker


You may browse my collection of pictures via the menu located on the left hand side of the page. I hope you enjoy the collection and thanks for stopping by!
Note: This site is best viewed in Internet Explorer 6.0 or above.
Select one of the links from the menu on the left to begin browsing the collection.